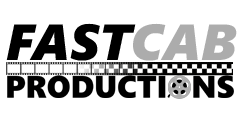 Welcome to Fast Cab Productions
Production
Equipment
Crew
Consultation
Casting
About
---
Who we are
We're a couple of guys from NYC that work in the film industry
While we're heavily rooted in the culture and lifestyles of NYC, we've gone ahead and ventured west, allowing us to become a bi-coastal production company. We're not only trying to bridge the gap between Hollywood and the Big Apple, but also between the traditional film industry and digital media!
Want to cast a major YouTube celebrity in your production, but don't know how to get in contact with them or persuade them to take part? We can help. Perhaps you're already working on a digital media project and you need an A-List celebrity to make a cameo appearance. We've got you covered there as well. Our goal is to merge the two industries and make them one, and to provide our clients with the best services possible along the way.
So whatever it is you need to make your production a success, from staffing and equipment rental to casting and talent aquisition, just use the contact form and let us know. We'll be happy to help!
Services
---
What we offer
Take a look at what we can bring to the table.
Equipment
---
With locations in NYC and LA, we can offer you the Grip, Lighting and Camera Equipment you need!
Crew
---
Need some additional hands to go along with that 3 Ton Grip Truck? We've got you covered.
Consultation
---
We're certified youtube consultants and we're happy to sit down with you and talk strategy.
Marketing
---
We've got some tricks up our sleeves that can help to ensure your work gets seen!
Casting
---
We can help you bring influencers into your production, giving you a social media advantage right from the start!
Production
---
Bring us onto your project as a co-production company and we'll provide you with all the services and knowledge mentioned afore.
Contact Us
---
Drop us a line
You can send us an email by using the form below. We will get back to you as soon as possible.
New York City ⁄ Los Angeles